THE OLD WOMAN WHO SWALLOWED THE FLY
William M. Johnson
For those of you who are not already familiar with the English nursery rhyme, The Old Woman Who Swallowed the Fly…here are a few lines by way of explanation:
There was an old woman
Who swallowed a fly.
I don't know why
she swallowed that fly.
Perhaps she'll die.
She swallows the spider to catch the fly… swallows the bird to catch the spider… swallows the cat to catch the bird… swallows the dog to catch the cat… and so on…
Although there is a certain kind of bizarre logic to the old woman's efforts in catching that pesky fly, the chain of events is actually marked by one error driving another, and increasing desperation. Most important of all, as soon as the bird and the cat are gobbled up, one is struck by the total loss of proportion to the original, fly-sized problem.
At this point, it might be useful to consider how this particular strategy might also apply to the science of nature management at the dawn of the 21st century. While it may be true that the moral of this story can be detected in numerous walks of life, and in nature management virtually everywhere, consider its impact upon the conservation of one of America's most endangered marine mammals, the Hawaiian monk seal.
This species is almost exclusively confined to the uninhabited reefs and atolls of the Northwestern Hawaiian Islands, and continues to decline despite – perhaps because of – management efforts. From the late 1950s to the mid-1970s, colonies in the western reaches of the archipelago (between Kure Atoll and Laysan Island) shrank by at least 60 percent, and the colony at Midway Island all but disappeared, largely due to human disturbance. By the mid-1990s, total monk seal numbers had stabilised at about 1,300 to 1,400 individuals. However, a significant decline in the species' largest colony at French Frigate Shoals has been responsible for an overall decline in population numbers.


Click on map to enlarge
According to the U.S. Marine Mammal Commission's Annual Report to Congress for 1998, that decline can be attributed to "human disturbance, entanglement in derelict fishing gear, reduced prey availability, shark predation, natural environmental perturbations, attacks by aggressive adult male monk seals on females and immature seals of both sexes (called 'mobbing'), and possibly disease."
Faced with such threats, conservation of the species, the report concludes, "continues to be a daunting task." Yet according to a book chapter to be published later this year (Lavigne 1999), Hawaiian monk seal conservation may only be as daunting as the "ponderous, Byzantine bureaucracy" that infests it.
Rather than being a single, easily definable entity, the administrative structure responsible for the "recovery" and "management" of the species is actually composed of a plethora of government agencies, government-affiliated organizations and NGOs, often with agendas and priorities that are inherently conflicting. Interests represented in the decision-making process include the military, fisheries, tourism, scientific research and conservation. While some might portray this as a pragmatic attempt to create equilibrium between divergent interests, it might also be seen as an improbable balancing act fraught with risks, not least of all because the precautionary approach is rarely applied (Lavigne 1999).
Under the terms of both the Endangered Species Act and the Marine Mammal Protection Act, the National Marine Fisheries Service (NMFS) leads the Hawaiian monk seal recovery effort. The U.S. Fish and Wildlife Service also claims a major share in responsibility, not least because part of its mandate lies in managing the Hawaiian Islands National Wildlife Refuge and the Midway Atoll National Wildlife Refuge. Other "key agencies" include the Army Corps of Engineers, the Coast Guard, the Navy, the State of Hawaii, the Western Pacific Regional Fishery Management Council, the University of Hawaii, the Hawaii Wildlife Fund, and the Center for Marine Conservation. Additional interests include the Marine Mammal Commission, the NMFS's Hawaiian Monk Seal Recovery Team, lobster fishers intent on exploiting the Northwestern Hawaiian islands, dive and sports fishing concessions on Midway Atoll, island residents and, last but not least, Midway Phoenix Corporation, Midway's corporate operating contractor.
As if tacitly acknowledging the controversies contained in Lavigne's aforementioned chapter, the latest MMC report to Congress highlights some of the management schisms that afflict Hawaiian monk seal conservation, and the fragmented initiatives that – perhaps inevitably – grow on such fractured ground.
More to the point, it is precisely the way in which these multiple, conflicting interests drive conservation strategy, that is so reminiscent of 'The Old Woman Who Swallowed the Fly'.
Consider the following:

When monk seals are starving to death… continue fishing…
According to the MMC report, "the poor juvenile survival rate at French Frigate Shoals does not appear to be due to direct human disturbance. Rather, evidence indicates that limited prey availability may be a factor." Lest anyone jump to the conclusion that 'Acts of God' alone are therefore to blame for the plummeting fortunes of the colony at French Frigate Shoals, it might be prudent to examine the facts in more detail.
The MMC report goes on to point out that:
The reefs and banks of the Northwestern Hawaiian Islands are particularly susceptible to overfishing because of their relatively small size and isolation.
Monk seals feed on reef fish, octopuses, crabs, moray eels and lobsters.
According to a 1998 report published by the Western Pacific Regional Fishery Management Council, the lobster fishery bycatch in the Northwestern Hawaiian Islands is composed of reef fish (25%) crabs (23%), moray eels (11%), and other, non-target, lobster species (4%).
The MMC minces few words in its criticism of the authorities in handling this fisheries controversy. It notes that it has repeatedly recommended that the NMFS close French Frigate Shoals to lobster fishing as a precautionary measure pending further scientific study – but to no avail. It has also requested that the NMFS expedite research into the dietary needs of monk seals, but notes that funding "has not been provided." The MMC goes on to report that, as a result of these and subsequent communications to the NMFS, it either received no reply at all, or responses that were deemed unsatisfactory.
In one reply, coincidentally dated April Fool's day 1998, NMFS advised the Commission that it had no plans to close French Frigate Shoals to lobster fishing, apparently on the grounds that little, if any, fishing activity was taking place there.
The MMC report declares: "The Service's response failed to address Commission concerns about the impact that lobster fishing at French Frigate Shoals could have on the availability of monk seal prey… Therefore, the Commission wrote to the Service on 17 July 1998 again recommending that French Frigate Shoals be closed to lobster fishing and that, if the Service again declined to do so, it provide the Commission with a detailed description of the criteria it would use to determine the point at which lobster fishing at French Frigate Shoals might have an adverse effect on Hawaiian monk seal survival."
Over a month later, a NMFS reply requested more time to comply with the request, but the Commission notes that it was still awaiting a tangible response by the end of 1998.
As the year drew to a close, the Commission also learned that, as a result of NMFS management decisions, fishing activities (exploiting a total quota of 186,000 lobsters) were shifting towards the western reaches of the island chain, including reefs and atolls directly supporting major monk seal breeding colonies.
Acting on this new information, the Commission again recommended that, pending the results of long-delayed scientific research, NMFS immediately close French Frigate Shoals to lobster fishing, and prohibit similar activities at Kure Atoll, Pearl and Hermes Reef, and Lisianski Island.
On past performance it may seem unlikely that the NMFS will comply. While a response was expected from the Service early in the new year, the MMC recently informed The Monachus Guardian that it is still waiting.

Now Catch the Net…
Adding to possible overfishing woes is the enduring problem of entanglement in lost or discarded fishing gear. The MMC report notes that inquisitive Hawaiian monks, particularly pups and juveniles, are attracted by the nets and lines and thus risk injury or drowning. During the 1998 field season, it reports, 18 seals were found entangled in such debris. Of these, 5 were able to free themselves, 12 were disentangled by field crews and 1 was found dead.
Left: Adult male Hawaiian monk seal found entangled in derelict trawl net on Laysan Island, 23 July 1998. Service personnel removed the netting and the seal was released with no apparent injuries. Photograph courtesy of Dorothy Dick.
Right: Debris collected around Midway atoll.
A multi-agency cleanup effort coordinated by NMFS in 1998 discovered that 94 pieces of netting per square kilometre foul the reef surrounding French Frigate Shoals. At Pearl and Hermes Reef, the estimate was 64 pieces per square kilometre. With the cleanup only succeeding in removing a fraction of this debris, NMFS estimates that 38,000 pieces of netting remain at each of these reefs.
As reported in the December issue of The Monachus Guardian (Mysterious 'Marine Debris' Discovered at French Frigate Shoals), at the time of the cleanup, the Associated Press quoted NMFS as saying that it would "work to identify the sources of net debris." Although there appears to be no firm developments on that front, the fate of the vessel Paradise Queen II might give some food for thought. This lobster fishing boat ran aground on reefs at Kure Atoll on 16 October 1998. More than 15,000 litres (4,000 gallons) of fuel were spilled, though no ill effects were observed among the atoll's monk seals. The wrecked vessel, however, has also dumped about 3.2 km (2 miles) of line and 500 lobster traps on the reef, and this is considered a serious threat to the colony. The vessel's insurance policy will not cover the required salvage operation and, so far, requested assistance from the Navy has not been forthcoming. The Commission regards the removal of the wreck and its associated debris as "an urgent matter."

Forget About Overfishing, Catch the Seal…
Readers of The Monachus Guardian may well recall passing references to Hawaiian monk seal translocation experiments that, for one reason or another, went disastrously wrong. The latest MMC report helps to put this issue into some perspective, not least of all because the accumulated facts tend to reveal the clarity of cause and effect:
These translocation efforts recruited (to use contemporary management jargon) underweight animals from the dwindling colony at French Frigate Shoals where, if existing evidence is to be taken into consideration, seals have been starving to death, possibly because of overfishing pressures.
Following the successful translocation of female yearlings to the depleted colony at Kure Atoll, the NMFS decided to repeat the experiment at Midway in 1992. These releases "experienced poor survival" according to the MMC report (in fact, all 18 translocated animals either died or disappeared in short order – Johnson & Lavigne 1998) and, as a result, "further translocations were suspended pending a thorough review…"
On the basis of that review, the MMC recommended that translocations to Midway be resumed. As a result, in 1995, the NMFS captured 12 underweight female pups at French Frigate Shoals and transported them to the NMFS's Kewalo Research Facility in Honolulu (where, incidentally, two adult male seals were killed in the summer of 1995 by electro-ejaculation experiments).
While in captivity, the pups contracted "an undiagnosed eye problem." Euphemisms aside, the pups were, in fact, blinded by an ocular disease, effectively preventing their translocation or release.
In 1997, yet another review panel recommended that translocation efforts to Midway be re-resumed, though without a needless excursion to Honolulu.
Preparing for translocation in 1999, the NMFS conducted a health and disease assessment among seals at French Frigate Shoals, Pearl and Hermes Reef, and Midway Island. Preliminary results indicated that seals at French Frigate Shoals may have been exposed to a morbillivirus, while monk seals at the other sites had not. Fearing a potential mass die-off, the MMC subsequently recommended a postponement until the risks can be thoroughly assessed by experts.
At this point, it might be instructive to remember how this chain of events – our nature management version of the Old Woman Who Swallowed the Fly – all started: monk seals dying of starvation at French Frigate Shoals. It would obviously be impolite to remind anyone that, even by the known figures reproduced here, NMFS policy has been implicated in the deaths or blinding of 32 Hawaiian monk seals, 30 of them females. One wonders whether those in charge have heard of cost/benefit ratios.

Nine Blind Seals…
The nine blind survivors of the Midway translocation experiment (two of the original females died in captivity, and one remains unaffected by the mystery illness) have evidently lost their appeal to the NMFS. According to the MMC, the cost of maintaining these animals in captivity "has been a significant financial burden on the Service." Fears that the undiagnosed eye disease may be contagious have effectively ruled out any return to the wild. It was also recognised that, after years in captivity, they might be unable to re-adapt to their natural habitat and evade sharks. This must surely rank as one of the most significant arguments of all, given current proposals for captive breeding of the species.
By November 1998, it was announced that the NMFS had reached an agreement with Sea World of Texas, San Antonio for the permanent care and maintenance of the surviving captives (yes, Sea World of Anheuser-Busch, Bud Lite and Shamu fame, touted as "the world's largest marine life adventure park…"). Here, according to the MMC, "monk seals will be kept together as a group and will be available for approved research projects" – a comforting thought given the results of previous approved research projects.
The transfer of the animals was expected in February 1999, although no announcement could be found on Sea World's web site "Press Room" or "Environmental News". Understandably, these pages were concerned with more pressing issues, such as Sea World's new 'steel eel' hypercoaster and its Beluga swim-with program… Not that we should forget to mention the 1999 SeaWorld Environmental Excellence Awards, for outstanding achievements in conservation. Perhaps someone would care to nominate the NMFS…

Two Seals with One Stone…
Reacting to repeated mobbing of females and immature seals by adult males on French Frigate Shoals, NMFS researchers had two of the worst offenders removed from the colony in 1998. Although this operation – however well-intentioned – was characterised as a translocation, it appears that its implementation may have had more to do with desperation than logical strategy. Thus, rather than being moved to anywhere within the monk seal's current range, or even to a captive facility (bearing in mind, perhaps, those recent impassioned speeches in favour of captive breeding or the oft-repeated maxim that 'every individual counts'…), the two male mobsters were actually "translocated" to Johnston Atoll, the former nuclear test site and chemical weapons repository, located about 1,125 km (700 miles) south of French Frigate Shoals.
Rumours currently doing the rounds on Midway suggest that this was, in fact, merely a humane alternative to a bullet in the head – an act that presumably would have broken several U.S. laws.
By the end of 1998, the MMC reveals, neither animal had been resighted at French Frigate Shoals (significantly, no mention is made of any monitoring attempt at Johnston atoll). Meanwhile, injuries and deaths caused by aggressive behaviour had, it claimed, "declined dramatically" at the capture site.

Where monk seals are beginning to benefit from reduced disturbance, increase tourism…
In recent years, Hawaiian monk seals appear to have taken advantage of the military's departure from Midway Atoll. Beach counts in 1998 registered 24 individuals – "far higher than that of any year since 1960" according to the MMC. The eleven pups born at the atoll in both 1997 and 1998, the Commission concludes, "are encouraging signs of the possible reestablishment of the Midway Islands as a major monk seal breeding site."
The question is, for how much longer?
Although an important military outpost since 1940, the Navy transferred ownership of Midway to the U.S. Fish and Wildlife Service (FWS) in 1996, apparently content that the atoll become a National Wildlife Refuge. One condition of the hand over, however, was that Midway's new custodians maintain the runway and associated equipment for emergency landings and refuelling.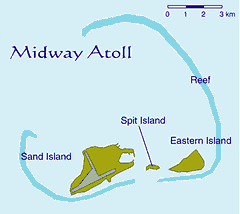 Lacking sufficient expertise or funding to fulfil its obligation, the FWS sought bids from the private sector, eventually contracting Midway Phoenix Corporation to maintain and operate the airfield and manage public access. A Public Use Plan devised by the FWS was tilted heavily towards ecotourism, offering public participation in onsite research projects, wildlife observation and photography, guided historical tours, diving and snorkelling, and recreational fishing. As revealed in our last issue (Midway's Monk Seals), there is much on and around Midway to draw the ecotourist. Aside from the monk seal, the atoll is also home to the endangered green turtle, 14 species of migratory seabirds, including the world's largest colony of Laysan albatrosses, and four migratory shorebird species.
Judging by its meat-heavy menus and its prolific use of plastics (a ruthless killer of the Laysan albatross and other wildlife, according to FWS guides on Midway), ecotourism may be a new departure for Phoenix. Its corporate experience, in fact, appears to lie well off the ecotourism compass – in airfield management and in shipping toxic waste. As a commercial enterprise, it also requires profits to survive, a fact of life that the FWS may have tended to gloss over in the first blush of Midway wedlock.
Under the current Public Use Plan, Midway's visitor numbers are restricted to 100 in order to mitigate disturbance to wildlife. However, it now transpires that the 100-visitor ceiling is no longer regarded as economically viable by Midway Phoenix Corporation.
The MMC report states: "An overriding concern is that ecotourism and other activities need to provide enough revenue for the contractor to continue to maintain the facilities at Midway Island. Discussions are ongoing about increasing the visitor cap (currently 100 people at a time), possible tour boat visits, and sportfishing opportunities."
Although visitor movements are reasonably restricted at present (only one beach is open to public access, for example – even if it is frequented by seals), it appears that these limitations may now be open for re-negotiation – including such sensitive issues as reef and shoreline access, swim platform installation, lobster and sports fishing, and the policing of tourists.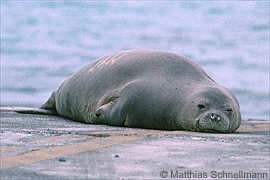 Will the monk seal become a victim of increased tourism on Midway?
Midway Phoenix's proposals for a revised visitor ceiling have not as yet been publicly aired, though researchers on Midway have privately voiced their misgivings, pointing out that the monk seal is only just beginning to re-establish itself on the atoll after years of human disturbance.

Where monk seals are declining, consider installing missile launch pads…
Finally, we cannot entirely ignore Ronald Reagan's old 'Star Wars' dream that, until recently, looked all set to intrude upon beach-dozing seals at French Frigate Shoals.
Under 1995 orders from Congress, the U.S. Navy is to develop a 'Theater Missile Defense Program' on the Hawaiian island of Kauai. The plan calls for interceptor missiles, capable of destroying enemy target missiles, to be tested "at various distances and locations around Kauai" – i.e. in the monk seal's backyard. A draft environmental impact statement indicated that target missiles might be launched from (among other candidates) Tern Island at French Frigate Shoals.
Although this site was later rejected (in favour of air-launched missiles), students of monk seal history may care to note that it was not until September 1998 that the Department of Defense eliminated the location of the species' largest colony as a missile launch pad…
Neighbouring seals, on the other hand, may not be quite so fortunate. According to U.S. government sources, the Navy has finally acknowledged that deployment of the missiles may increase disturbance to Hawaiian monk seals at Niihau and the small island of Kaula, to the southwest. As a gesture towards the species (precisely what kind of gesture, we cannot say), Navy personnel will be required to check beaches for basking seals before pushing the button (U.S. Federal Register).
But, you ask, if efforts to save the Hawaiian monk seal are so reminiscent of an English nursery rhyme, what happened to The Old Woman Who Swallowed the Fly? Well, rather like the way monk seal conservation strategy is about to swallow captive breeding to catch all of the other errors it has already gobbled down, the Old Woman eventually swallows a horse... She dies, of course.
Literature Cited
Johnson, William M., and David M. Lavigne. 1998. The Mediterranean Monk Seal. Conservation Guidelines. Multilingual Edition. International Marine Mammal Association Inc, Guelph, Ontario, Canada. pp. 152.
Lavigne, D. M. 1999. The Hawaiian Monk Seal: Management of an endangered species. In J. R. Twiss Jr. and R. R. Reeves (eds.) Marine Mammals, Vol. II. Smithsonian Institution Press. In Press.
Marine Mammal Commission. 1999. Annual Report to Congress 1998. 31 January 1999. i-xvi, 1-236. Chapter II – Species of Special Concern. Hawaiian Monk Seal (Monachus schauinslandi) 47-56.
U.S. Federal Register. Vol. 64 No. 78 (23 April 1999), pp.19979-19982.
Copyright © 1999 William M. Johnson, The Monachus Guardian. All Rights Reserved